Review of GSM-handset Samsung Armani (SGH-P520)
Live photos of Samsung Armani
Table of contents:
Sales package:
Handset
Charger
Carrying case (leather)
Wrist strap
USB data cable
Software CD
User Guide
Positioning
The SGH-P520 adds another page to the history of the Card Phones range from Samsung, originally established by the Samsung P300, then followed the Samsung P310. While the former felt like a breath of fresh air, the latter didn't produce the same wow-effect. Either of the handsets was not revolutionary – their major trumps were the form-factor and extra batteries packed inside leather cases, which was pretty off-the-wall back then.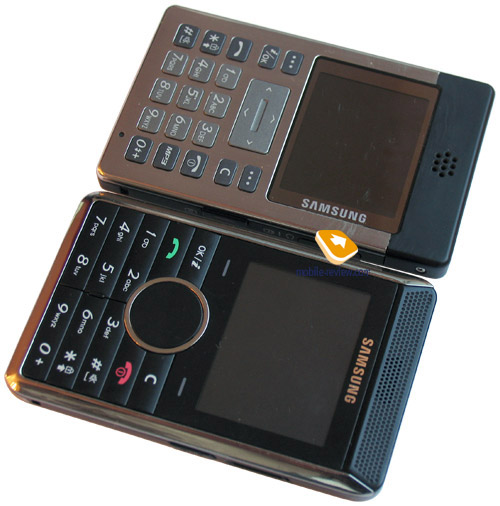 The market stories of these two had a happy ending – the company retailed them in small volumes, and they weren't particularly notable against the backdrop of other mass-market devices. So what this "happy ending" is all about, I hear you ask. It's simple: neither the P300 nor the P310 was a bust on the market, as they snatched a reasonably narrow niche. Interestingly, this segment of fashion-conscious off-beat handsets has very moderate sales, yet a quite steep average price. There were even some offerings designed after the Samsung P300, like the Levi's-branded solution.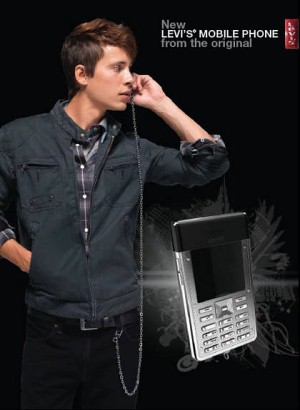 Meanwhile, Samsung's faith in the Card Phone design hasn't grown weaker – the company is into a number of products of this type as of today. So the third model in the range is the Samsung P520, but while its predecessors did not know what the word "competition" meant, this one will surely taste it.
Back in February 2007 LG showcased its latest and greatest LG Prada (LG KE850), coming in a similar form-factor, touch-sensitive display and two buttons on the face. It is that rare occasion when LG is trying to outplay Samsung in the latter's own domain – mobile phones, and suddenly Samsung turns from a pioneer into a runner-up. So they had some thinking to do on how to outdo LG, thankfully, being able to strike second by releasing an own offering later, has some benefits to it.
In a nutshell, they had two wayouts. The first and the easiest one – roll out a mass-market solution retailing for less money. This concepts was in the works inside Samsung for a while – back in summer when the LG Prada hit the market, they were ready to ship the P520 for 280-300 Euro against the Prada's 600 Euro. However this way they were hurting the concept of premium products, which the Card Phones range in fact comprised. So there was another idea to run with – a truly luxurious handset with, say, gold used as one of the casing's constituents. But this concept was forgone as well, so the Gold Phone name was bound to stay within the company's walls for good.
The only option they had left was a branded phone, and the fashion brand they picked for this purpose was Giorgio Armani. This brings about a direct collision with the LG Prada, which, to a lesser extent, is a rivalry between two handsets, being in fact the struggle between two world-famous fashion houses, whose consumers are loyal and have nothing against spending some money on an exclusive accessory, such as a handset.
Another consequence of this line was the P520's positioning above the rival price-wise. The fact of the matter is that the LG's offspring has been around for quite a while already, so the first surge of interest is long gone and its price tag has dropped some weight. And that's the moment when the P520 comes in, going for almost twice as much. But is its target audience price sensitive? By no means. Given the average price of a bag around 500-700 USD or belts selling for 300 and more, this isn't all that much.
What I want to emphasize here is that the functionality of these handsets definitely have to be taken into account, and we will get back to that below. But saying that somebody will go for the LG Prada instead of the Samsung Armani just because of its prowess in some department won't make any sense. These are two different, parallel worlds – no "inhabitant" of either one of them will attempt to cheat on his respective brand. The only exception are people bent on gadgets and not really conscious of what's happening in the world of runaways and glitter. These consumers may actually find these solutions interesting primarily due to some of their technical merits. But they make only a tiny share of this handset's audience, and what is more, there are other more fetching options to consider.
Back to the table of contents >>>
Design, size, controls
The handset measures 87.5x54.5,10.5 mm and weighs in at 84 grams. The leather case adds a couple of millimeters to its girth, but overall it is one skinny device that literally will sink in your palm. Surprisingly, though, but given its very modest dimensions, it manages to be palm-friendly and fits your face line very well. The P520 will keep a low profile while in a pocket, which brings about some drawbacks as well.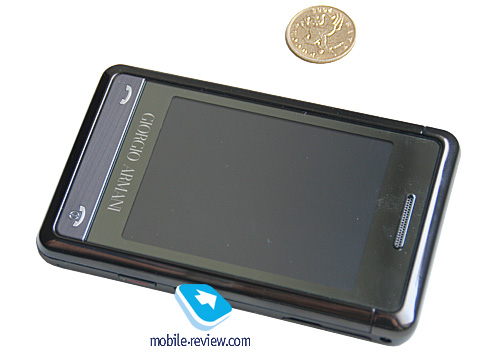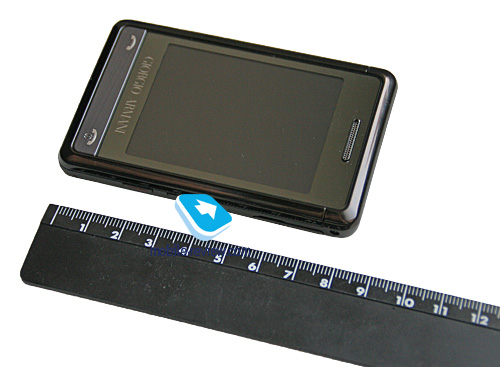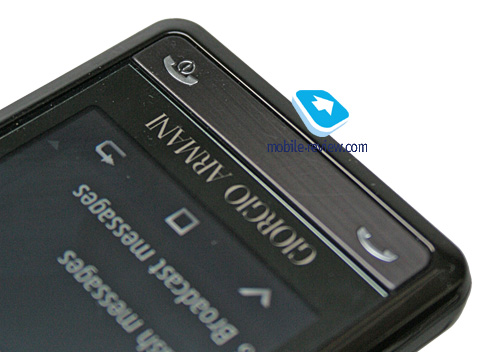 The P520 enjoys a pretty spartan design – a glossy metallic frame, single-color casing. The rear also houses a metallic slab covering the battery compartment. Sitting on the underside are the 3,2 Mpix camera lens and the flash module.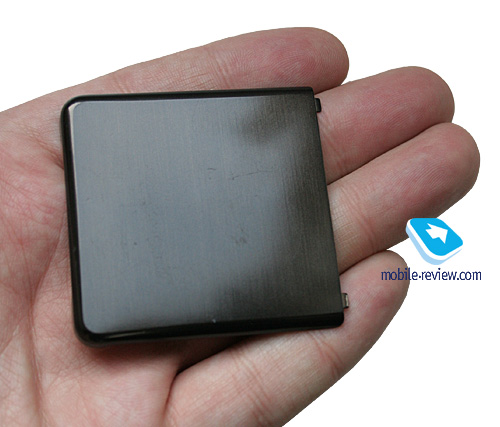 The microphone, as well as the battery cover locker, sits on the lower end of the phone. On the left-hand spine is the microSD memory expansion slot covered by a plastic flap, housed below is the volume rocker, which is not the best location to it – it would have been better off sitting somewhere higher up.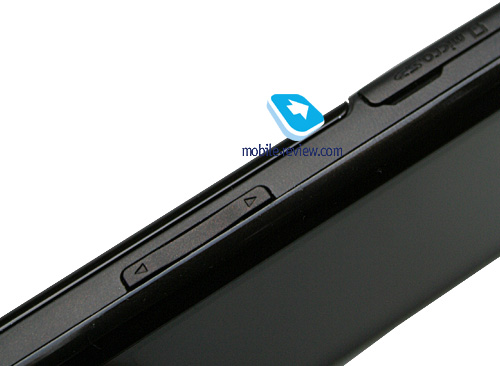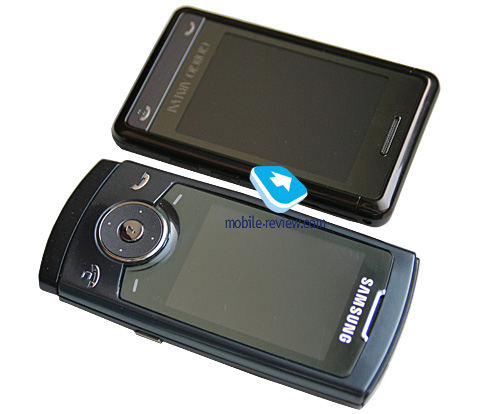 Mounted on the right side are the charger/headset jack, also hiding underneath a flap, the Hold switch for locking the display and a dedicated camera key.

Back to the table of contents >>>
Display
Since the P520 comes with no hardware keypad onboard, this vacant space has been taken over by the biggest display they could only squeeze into the handset – a 2,6-inch TFT-screen with the resolution of 240x320 pixels (40x53mm), showing up to 262K colors. All data input is done via this touch-sensitive display, running the Capacitive Touch Screen technology – in other words, unlike more conventional touch-screens, it packs no sensors and rather employs a special oxide layer on top of its screen, which reacts to touches of your fingers, basically, a stylus or any other sharp object won't do here. With a pair of gloves on, you will still be able to use the P520's hardware buttons, while typing up a short message will prove to be impossible.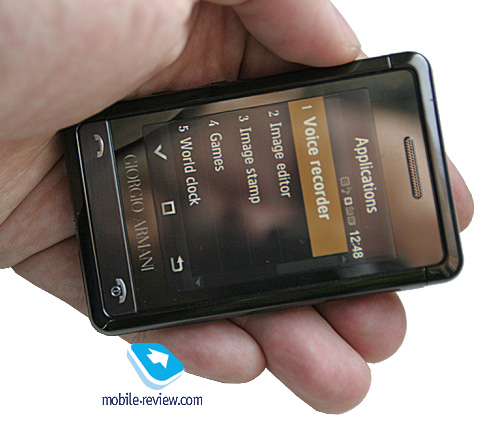 Among this technology's edges is the display protection, be it plastic or glass, which provides a higher degree of safety than on standard touch-sensitive panels. Also with the P520 it doesn't matter how dirty the screen's surface actually is – you will still get pretty decent reaction time and accuracy.
Samsung-branded offerings also employ the VibeZ feature so as to make the casing vibrate a little, confirming your actions, and we do mean "actions", since it gives you a buzz only when you tap some action-related keys. This means that when dialing a number or texting, you won't get this kind of tactile feedback, which is a good thing, though – otherwise, it would feel more like a massage session for your finger pads, a pretty annoying one at that.
Now for the shortcomings of the Samsung P520 – there are two of them. The first one is misclicks, when the device responses in an awkward way, typing a couple of letters instead of only one you tapped. And the other letdown manifests itself when you accidentally touch the display's surface with your palm (basically, only for people with big hands).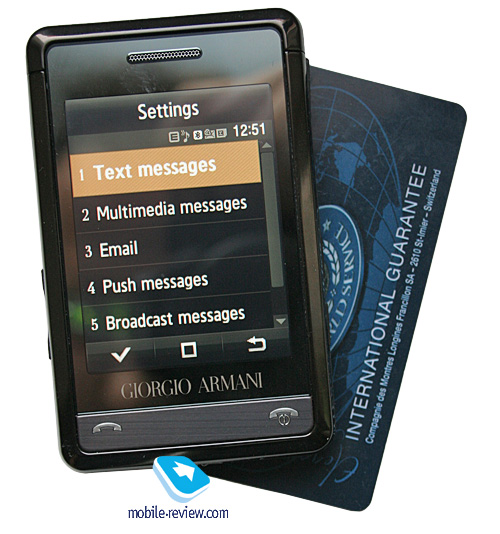 The way the P520's touch-display is implemented compares only with the LG Prada, which suffers from exactly the same drawbacks. The Apple iPhone utilizes a different technology, making for a much more gratifying texting experience. It can freeze and stop responding to key taps, but this happens only on some very rare occasions. The thing the Samsung Armani falls flat on is the texting experience – it is too fiddly.
As far as the display's picture quality is concerned, however, it is one of the market's finest offerings. Nevertheless, just like with the B&O Serene, you will just overlook this brilliance, as the user interface's gamma is keyed to the handset's trim – no-nonsense and pale. All this doesn't make for a mind-blowing experience of using this display, even though it still manages to look pretty decent. While the LG Prada exercises the same approach, it also allows the user to alter the main menu by applying custom themes – the Armani comes with no gamma customization options, so you are bound to use its default theme.
The screen does well in the sun, and we have no gripes with it – its picture remains legible, plus you get the Sun mode, increasing the display's overall contrast, which is familiar from other Samsung's solutions.
The display accommodates up to 8 text and 3 service lines, but you can cram as many as 10 lines into it while reading a message, depending on the font size you have picked. You are also enabled to customize the font size and type, although, the available options aren't very different from each other. What really matters is that unlike most other offerings, the P520 sports hugeish font sizes, which are very readable from almost any distance.
Back to the table of contents >>>
Battery
The P520 comes packaged with a 880 mAh Li-Ion battery, rated for up to 220 hours of standby and 6 hours of talk time. In Moscow the phone lasted around 2 days (an hour of calls, a couple of messages a day, a tad of email and an hour of music). Those who are heavy on email and web will squeeze only a day of operation from the handset. So, generally, you won't get more than 1-2 days from the P520. Sadly, there is no battery-armed covers available for this phone. It takes the P520 around 2 hours to charge up from empty to full.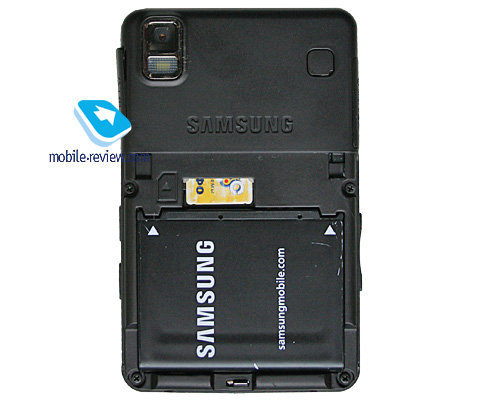 Back to the table of contents >>>
USB, Bluetooth, connectivity
Bluetooth. The model supports various profiles, such as Headset, Handsfree, Serial Port, Dial Up Networking, File Transfer, Object Push, Basic Printing, A2DP. EDR-enabled Bluetooth 2.0 is onboard. Headset management doesn't allow us to have any quibbles with it, everything is standard here.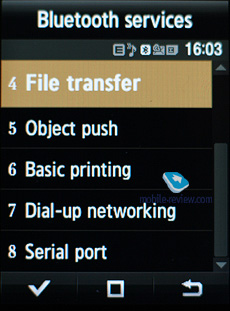 USB-connection. In the menu you may select one of three modes: Media, Mass Storage, Samsung PC Studio. No Modem mode available with the P520, there is even no such option in PC Studio. I hope it will come along a bit later.
While in the USB Mass Storage mode, the P520 shows up on the desktop without requiring you to install any additional drivers, so right after plugging in it's ready to work. Data connection speeds top out at 600 Kb/s.
You won't be able to use the P520's Bluetooth connectivity along with USB – it will require you to disable Bluetooth regardless of its status (connected and transferring data or not), which is very awkward.
When connected to a PC via USB, the P520 automatically recharges itself.
For GSM-networks, the P520 comes included with EDGE class 10.
Back to the table of contents >>>
Memory, memory cards
The phone ships with 61.5 Mb of memory onboard – this storage space, give or take, is available to the user right out of the box. The memory card (hot-swappable) is displayed as a separate section, so you can't access both memory types at a time. The P520 also comes with a file manager, enabling you to copy files to/from the memory card. In our test the handset had no problems handling a 2 Gb microSD memory card, whereas a 4 Gb unit remained unidentified.
Back to the table of contents >>>
Camera
The handset enjoys a 3,2 Mpix camera sporting no auto-focus onboard (CMOS). The matrix size makes ? inches. The P520 takes shots of moderate quality, or slightly above that, while in good light conditions, so there isn't much to shout about. The LED flash helps when shooting objects that are close to you.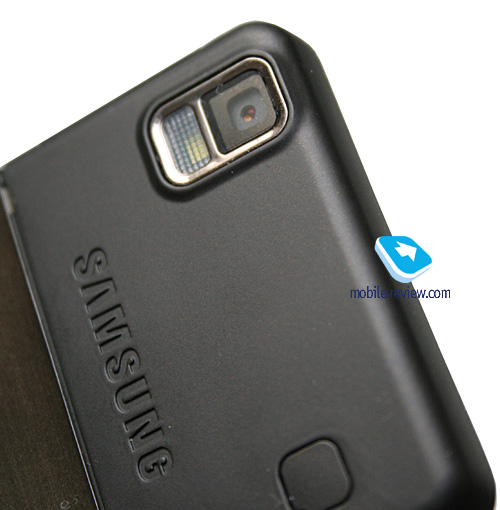 The touch-sensitive display brings about a couple of fresh touches to the way the camera interface is handled. This way, you pick menu items right from the screen, while the display acts as the viewfinder. You zoom in and out by sweeping your finger across horizontally, which isn't particularly handy. All lists where items don't fit in one screen need to be scrolled through. The interesting thing about this layout is that you won't jump to the options you don't see outright, which is pretty awkward. The directional arrows seem to be dead, as they didn't respond to our taps.
The following resolutions are supported:
2048x1536 pixels
1600x1200 pixels
1280x960 pixels
800x600 pixels
640x480 pixels
320x240 pixels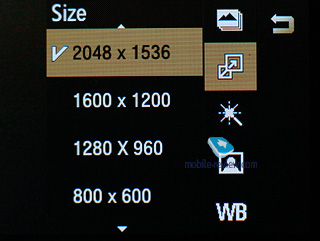 Four quality levels are available:
Super Fine
Fine
Normal
Economy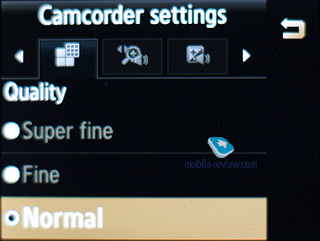 You better use the best quality settings available, since they won't be all that bigger in size, but you will appreciate the boost in quality.
The user is presented with a couple of shooting modes as well:
MultiShot – takes 6, 9 or 15 shots in a rapid succession
Mosaic – your snap will be stitched from a batch of images, on top of that, you can pick of the 18 templates. At a glance, this is a totally useless features, but I found these images great for decorating my standby screen, when selected wallpapers displayed one after another. Single-piece images just don't look as good there.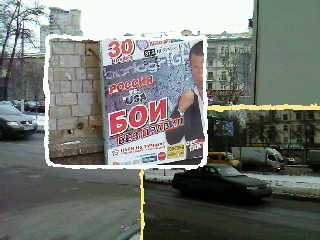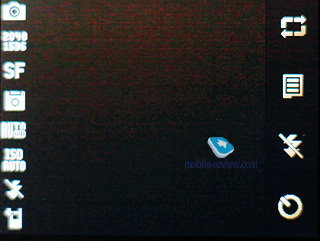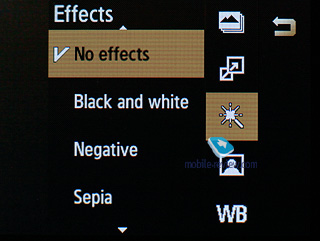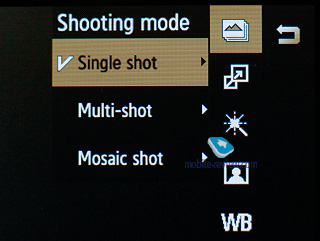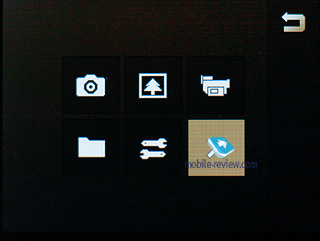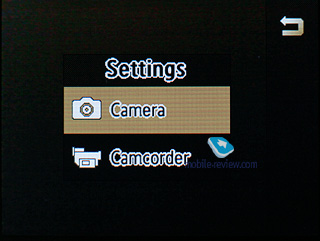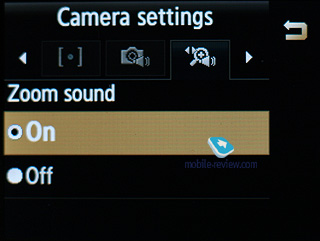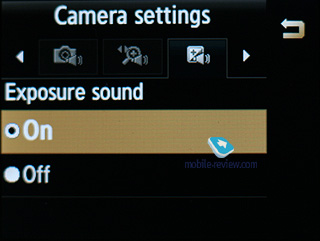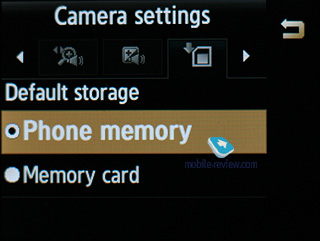 Speaking of the standard options you get with the P520, these are the White balance (Auto, Daylight, Incandescent, Fluorescent, Cloudy), frames for the resolution of 320x240 pixels. You will be able to adjust ISO, as well as the exposure settings. The handset also packs an x10 digital zoom, which proves to be pretty much worthless, though.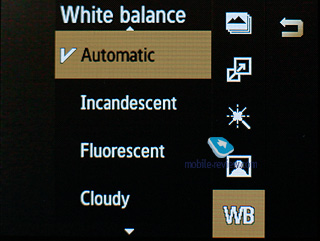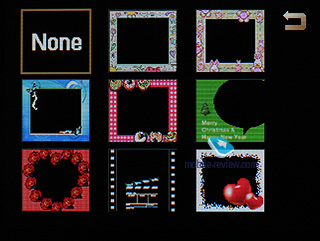 | | |
| --- | --- |
| | |
| (+) maximize, 2048x1536, JPEG | (+) maximize, 2048x1536, JPEG |
| | |
| (+) maximize, 2048x1536, JPEG | (+) maximize, 2048x1536, JPEG |
| | |
| (+) maximize, 2048x1536, JPEG | (+) maximize, 2048x1536, JPEG |
| | |
| (+) maximize, 2048x1536, JPEG | (+) maximize, 2048x1536, JPEG |
| | |
| (+) maximize, 2048x1536, JPEG | (+) maximize, 2048x1536, JPEG |
| | |
| (+) maximize, 2048x1536, JPEG | (+) maximize, 2048x1536, JPEG |
| | |
| (+) maximize, 2048x1536, JPEG | (+) maximize, 2048x1536, JPEG |
| | |
| (+) maximize, 2048x1536, JPEG | (+) maximize, 2048x1536, JPEG |
| | |
| (+) maximize, 2048x1536, JPEG | (+) maximize, 2048x1536, JPEG |
Video. The device captures video in four resolutions – 352x288 pixels, 240x320 pixels, 176x144 pixels and 128x96 pixels at up to 15 FPS. Its video quality, however is nothing special.
Video sample (mp4, 2,3 mb) >>>
Back to the table of contents >>>
Menu, Croix UI
The entire range employing touch-sensitive displays comes with a Samsung's operating system and user interface standing very close to what you currently see with the company's today's solutions. At the same time, there is a couple of new touches added for touch-screen based device alone. They have tailored the interface to make it get along with touch-displays, so the new UI goes by the name of "Croix" (French origins of the word, where it literally means "a cross"). Another model enjoying this user interface is the Samsung U700.
Let's see how the user can benefit from this particular interface version and what's so special about it. While in the standby mode all you will see is the clock, but sweep your finger across horizontally to bring up the calendar displaying the current month's schedule. The bad thing about the pop-up calendar is that you can't scroll between months; which is especially frustrating when a month is drawing to a close, and obviously, you want to check out days to come. Again, this is a just a calendar that has nothing to do with the Organizer's event, which are not displayed in this pop-up window.
Sitting in the centre of the display is a blinking square which unfolds into four shortcuts to call logs, player, messages and phonebook once you tap it. You can also jump to the call log by pressing the pick up key.
You can enter the main menu by pressing the icon at the top of the screen. The numeric keypad is called up from the standby mode hands down, which is also pretty convenient.
The main menu is displayed as a 3x4 grid, where every item you hover over is placed inside a cross which wanders around from item to item – actually, that's why this interface is call "Croix", pretty easy to guess.
While all icons look quirky, they are not always intuitive – for instance, the phonebook thumbnail still puzzles me, and I don't seem to be able to memorize it. By the way, all these icons have been drawn exclusively for the Giorgio Armani edition, whereas the original version of the device packed a set of conventional icons.
The touch-sensitive display is easy to handle – you tap the item you need, then bring up a data input field by double-pressing it, since the first one will select it, and the next one will enabled the on-screen keypad.
All texting is done via the on-screen keyboard, which is almost identical to that of conventionally looking handsets – it houses twelve buttons with a batch of symbols attached to each, so in order to type some particular letter you will need to tap one of these buttons sequentially. Naturally, many will wonder why the P520 comes with no QWERTY-keyboard if it packs a touch-sensitive display. Well, while it makes for a tad speedier typing, the user also gets more misclicks, which negates all advantages of a virtual thumbboard. Essentially, touch-screens are great for moving around menus, not texting.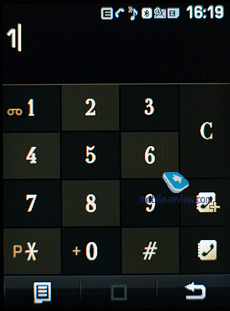 You also get T9 predictive text input system for typing, but the way it is implemented in the P520 leaves much to be desired. While texting you see a text box topping the display, where words pop up, and the bad thing about the handset is that it doesn't actually predict words. Meaning that you won't see a word until you have entered it. On a very rare occasion when two words share the key sequence, you will be allowed to use the directional arrows to scroll through the list of alternatives, but you won't see it either. In my opinion, there is no reason to disable the T9, as you won't boost your text input speed this way. One more thing marring the handset's messaging department is that while you actually can add words into the dictionary, you will have to go through hell to do that.
The handset allows you to toggle between any of the preinstalled languages. From the menu you can use the text editing mode, when you will be able to select a fragment, but not copy it. Being able to select text, however, also comes in handy when you need to alter fonts or something.
While all lists have their items indexed, you will never be able to utilize shortcut number navigation for lack of a hardware keyboard. The only reason they keep these shortcuts here are hybrid models with both large touch-sensitive displays and thumbboards, like the Samsung F700.
All menus have the icon bar at the bottom, featuring the OK key, which does the same thing as pressing the display and the Back button, which is really essential on the P520 – if you have a drop-down menu open, the only option for closing it is pushing this key. The fact of them matter is that you can't go back by just clicking on free space around that menu with the P520. The third key available in the bar calls up the quick access menu.
All applications, whose menus provide you with a number of options, also house removable icon bars with them, which is an extremely convenient layout. The videos found in this review will give you a better idea of how this actually works.
Ergonomics-wise, the P520 is not always intuitive, but overall, it is an easy-to-use device.Had the T9 mode been a little better, we would have experienced a considerable boost in texting speed over feature phones, but, regrettably, that's not the case with the Samsung Armani. On the other hand, this offering is very close to the LG Prada spec-wise.
Back to the table of contents >>>
Phonebook
Contacts can be accessed only from the menu; you will see a list that contains all entries from both SIM-card and phone's memory. The second tab comprises contact groups, so that you can switch to them in no time. Third tab – contact groups. The list doesn't feature images assigned to entries.
The field beneath the name is the default number, which can be picked manually from the list of submitted numbers for a particular contact. Quick name search by first letters is supported; there can be up to twenty of those, for any language. Once you tap the entry you will go into detailed view of the selected entry. There you will see a thumbnail, if any. It can be an image, a photo or a video clip. Each entry can have up to 5 phone numbers of different types (mobile, office, home, fax other), one of them will be main number (by default it is the first one you entered). All fields are hardwired.
There are two lines for First Name and Last Name (search is performed only by the former), these fields get merged when displayed in the general list, and First Name comes first. For example Eldar Murtazin will be shown only in this order. Length of each field is 20 characters for any supported input language. You can also switch languages on the fly when entering a name.
All entries, regardless of language, are sorted out in the following way – all contacts with headings made in a local language (Russian, for example) go first and then those with names in English. This is rather convenient and handy list sorting system. Taking into account fast language switch option during the search, it's clear that no language will spoil the experience of working with this phone. The list can be sorted by first or last name.
But let us return to the information entered for a contact. Apart from phone numbers, e-mail address (there may be several of them), a little text memo can be submitted on top of all that. Any music file (including MP3) can be picked as a ring tone for a contact. Three caller groups are provided by default with the possibility for creating any number of additional groups, setting a personal melody and image for each (by default there are three groups). SMS alerts are not customizable.
The phonebook is capable of holding up to 1000 contacts with filled in data fields. Even if all the available blanks are not used, the cap won't get any bigger and will still make one thousand. It is possible to specify in the settings where all new numbers should be kept by default. There is also an option for moving entries from the SIM-card, although the reverse action is denied. According to the developers, PC (MS Outlook in particular) is best for data synchronization with the P520. Any contact in the form of SMS/MMS, mail message or other text file can be quickly sent through Bluetooth to another device. There are no problems with sending, and the phonebook entry gets beamed to another device, where it is read without any trouble.
The phonebook may contain a business card as well, though its structure copies all the fields found in a regular contact in the phone book.
There can be up to eight numbers in the fast dial list; separate numbers tied up with a single contact may appear on this list as well. The chosen entry (not of the phone number type) is displayed on the buttons as the subtitle.
You can create any number of caller groups, assign up to 20 contacts and customize them with a picture and tune.
On an incoming call, caller ID picture occupies almost the entire screen.
Back to the table of contents >>>
Call log
Each of the given lists contains up to 30 phone numbers. There is a combined list of all the last calls with an icon indicating call type. You can quickly switch between the lists. The date and time of the calls are displayed in the extended view for separate entries. Calls from/to one number are grouped up, so that the number standing next to the call specifies total number of calls made. As always, the overall time of the calls and their cost can be viewed in this menu (in the case that the service has been enabled).
For individual numbers you can arrange a black list, which will reject all calls coming from these contacts.
From this menu you can also access the list of numbers your received/sent SMS messages from/to (two list), as well as all email addresses you have used lately.
Back to the table of contents >>>
Messaging
Much like other makers, over at Samsung they have forgone that artificial division into SMS-MMS types – you just start composing a message, and only then, depending on the contents, it is attributed to SMS or MMS. The menu still holds an option for switching message into MMS mode (for example when you need to send only text, but to an e-mail address, without calling up the bundled client).
The phone memory can hold up to as many as 1000 messages; the handset supports EMS standard compatible with Nokia Smart Messaging. While choosing recipient, you can either select a telephone number from your contacts or pick one from the call lists or groups. All messages are manageable, this means you are at liberty to move a certain number to your black list, in order to make sure all messages coming from that phone number will be deleted automatically; possibility for moving messages to any own folder is also at your disposal. For e-mail you can move not only addresses to the blacklist, but unwanted subjects as well.
One of the options on the menu is Vivid Message, which allows viewing a message in 3D mode – the handset converts frequently used words into images, for example having typed "Kiss you", you will see lips, blowing kisses. On the face of it, a simple add-on that sometimes puts up really amusing effects.
There are no size restrictions set on received messages, though an outgoing message's size is limited to 295 KB. As for additional services available with the P520, message rejection and message retrieval type options are onboard. All messages are stored in general dynamic memory, the same goes for e-mails.
Also there is a useful function for sending SOS-messages – when activated, should you find yourself in an emergency, after pressing the volume key four times, the message «I am in emergency. Please help me» will be sent to contacts submitted earlier, all incoming calls from these numbers upon sending the emergency message will be picked up automatically. Recipients (not more than 5), as well as number of Repeats may be set up manually, while text of the SOS-message is not customizable.
The bundled mail client is standard in all its components – 5 accounts and the maximum of 100 incoming messages; attachments are also handled by the phone, though there are also several caps – there's no way you can receive a file more than 500 Kb big, or send one with size exceeding 300 kb. Received files can be viewed via the bundled browser. The P520 doesn't support html in emails, which breaks formatting of most letters you receive, so they become really awkward to read. The mail client found in Samsung-branded phones is now falling behind those embedded in Nokia's and Sony Ericsson's solutions.
Back to the table of contents >>>
Organizer
The phone's memory can store as many as 1000 events of one type – meeting. There are other event types as well, like anniversary and holiday, with the maximum capability of 1000 events for each type. The P520 can also hold up to 1000 private entries.
Day and time as well as end time of an event are indicated for each entry. Alert signal and its duration can be adjusted to your liking; repeatable events are available for setting up (repeat time is also manageable as well as the exceptions). The weekly and the monthly calendar views are very convenient with each type of the event having its own color.
Speaking of the organizer's shortcomings, I cannot overlook the fact that when typing date and time for an event, the end time doesn't change, which badly hurts its ease of use – other manufacturers make the due time shift automatically (by default any event takes one hour).
Back to the table of contents >>>
Applications
Voice recorder. You can record up to several hours of voice memos with the number of files being unlimited. Basically, limitations on recording duration are set by the user himself, though length of a single recording cannot exceed 1 hour. All the files are stored in a separate folder in the memory bank. The recorder performs well during lectures, conferences and presentations – I could even say that it is a partial substitute for a digital tape recorder.
World time is displayed for two chosen cities.
Calculator It divides, multiplies, subtracts and adds and does several more things – quite enough for a mobile calculator.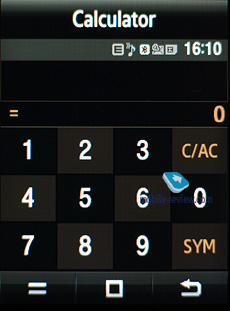 With the converter, you can operate with different units of measurements as well as with a number of currencies.
Countdown time and stopwatch have no bells and whistles.
Memo – standard text notes.
Image editor. A basic picture editor, which allows transforming images by using a variety of tools.
Image Stamp – merge two pictures to create a new one. Quite flexible settings.
Back to the table of contents >>>
WAP
The handset comes with a wap-browser version 2.0 (NetFront 3.4), where apart from JavaScript support, fonts scaling (three types), Smart-Fit (single-column view), full-screen mode (all controls are hidden), page caching, they have embedded a new feature – on-screen 'mouse' pointer. Much like Nokia's S60-powered handsets and Opera Mini, you can view pages with a tiny navigation window displayed. The browser itself packs a lot of goods under the hood and will be appreciated by most users.
While browsing, you will see four directional arrows for moving around web-pages. The usability of this solution is questionable – basically, browsing is not the forte of the P520, despite its pretty decent browser application.
Alarm clock
The handset comes equipped with four alarm clocks, each of them can go off on certain weekdays. You can also pick one of the five tunes, or turn to MP3 tracks. In settings it is possible to enable auto power-up when any event triggers.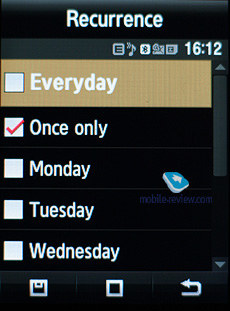 Back to the table of contents >>>
File Manager (My files)
That's the place to search for all files such as music, pictures, video and sounds. Any uploaded file gets stored here. The disadvantage is that files sometimes are not displayed in the list immediately - in that case you will need to leave the menu and enter it again.
Files and folders can be viewed either as a list or thumbnails. You can mark any number of files. The handset supports Move, Copy and Delete operations, as well as various types of sorting (by type, name or size).
Memory card's file structure is a slightly different story, as it can be accessed through the main menu, where each item features "Memory card" option.
What I want to emphasize here is that Java applications can't be uploaded over the air or via any other means, even though the Memory section of the menu claims this feature is supported. In theory, games specially designed for this particular handset can be uploaded on top, but in fact there are only two games of this kind, both coming preinstalled with the P520.
Back to the table of contents >>>
Settings
Traditionally this item boasts a standard set of options inside like password protection of selected sections. Keypad light – there are three options at your disposal, one of them is Night mode, implying that backlighting will be active only between 5:00 PM and 9:00 AM and disabled during daytime. If you come to think of it, this feature is nothing more but an illusive replacement for ambient light indicator, which Motorola's handsets are armed with.
No special or quaint settings are available with the P520. It only comes with an assortment of wallpapers and the ability to swap them randomly.
Mobile Tracker – submit a phone number, where notifications will be sent to in case SIM-card was changed – that message will contain number of the SIM-card being used with the handset. This section is protected with password, so that no one other than you or someone else who knows the password could disable the Tracker. Should your device have the SIM-card switched once, the specified number will receive one message instantly, and one more each time a new card is plugged in. A fetching feature which can prove to be of much help in case the handset is lost or stolen.
Back to the table of contents >>>
ÌÐ3-player
The player's interface theme is keyed to the P520's looks. The point where the lines cross houses the Play/Stop button, drag the horizontal bar to the right to jump to the place within the track that you need. And the vertical bar stands for the volume level. There are two more bars for calling up the settings menu (equalizers, loop, rating) and the track list menu. While the player looks quirky at first, you come to grips with it in a dozen of minutes. As for the rest, it is a typical latest-gen Samsung player.
The integrated mp3 player, supporting random, sequential and cyclic playback, is available with the phone. Mp3 files can be uploaded onto the handset both directly over Bluetooth and through the synch application or Windows Media Player. There are no limitations on tags and names of music files. Bitrates are not something that really matters either – the handset easily deals with all available formats and supports WMA, AAC, eAAC, eAAC+.
The title of the currently played back track is displayed as well as the number of the remaining tracks. There is an equalizer is embedded in the P520, but no way to tune it. Your tracks can be played through the stereo headset as well as the speakerphone. The volume bar has 10 scales on it. And of course the user can make up their own playlists. Player can work in minimized mode – in this case the display will show current track title and music controls, which is a good thing.
The player boasts the following filters: all tracks, recently players, most popular, artists, albums, genres and composers. The F330 also sports Album Arts support.
Speaking of new options, the player has obtained the rating system, enabling you to award any track with one to five stars. The maker has driven the integration with Windows Media Player as deep as it has never been before; actually, this manager also sports the rating system.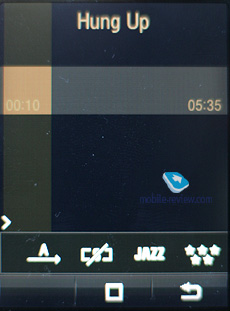 The bundled headset has a socket for plugging in custom earphones and ensures pretty good sound quality overall. Generally speaking, as a music-minded solution, the F330 comes close to Sony Ericsson's Walkman range, especially as far as the first generation is concerned. The music key makes Walkman-branded handsets comes across our minds, as it allows the user to launch and minimize the player with one press. While at the standby screen, if you have the music player minimized, you will see its controls and current track title right on the display.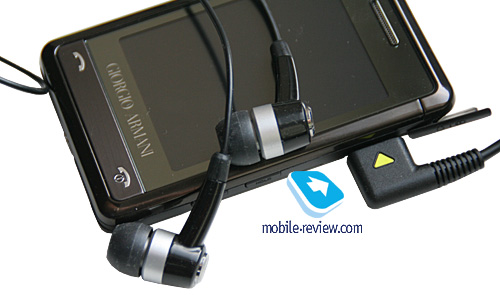 While in the loudspeaker mode, the P520's is not the best performer we have seen – it plays somewhat distorted sound and obviously lacks power, even though the sound doesn't seem to be muffled.
Back to the table of contents >>>
Picsel Viewer
Putting it short, Picsel Viewer is an application that opens MS Office files (for instance, MS Word, Excel, PowerPoint), Adobe Acrobat (PDF), picture and video formats on the phone. The attraction of this technology is its speed, when a 20 MB PDF file takes a couple of seconds to open, then you can quickly page through it, zoom in/out and rotate pages. No editing abilities here, only viewing is available with the P520, but that is pretty much enough already, especially considering there is no need in extra conversions.
Back to the table of contents >>>
Competition
Positioning- and spec-wise, the LG Prada qualifies as the only direct rival to the Samsung Armani, even though I have stumbled into opinions that the LG KS20 (touch-screen enabled as well) is another threat to the Armani and the Prada, but that's quite far from the truth. Firstly, it is a WM-powered solution, secondly it requires you to hold a stylus in your hands to manage it and the menu/interface layout is completely different. So this brings us to the fact that the KS20 is not (and will never) replace or compete the LG Prada in any way.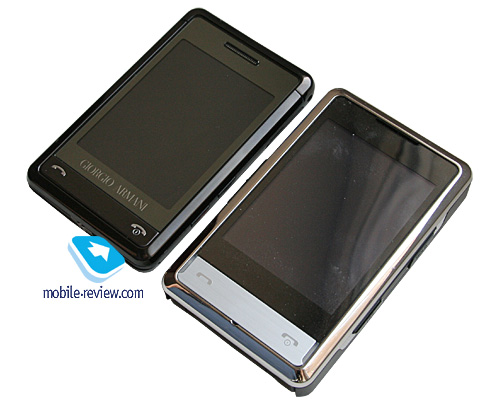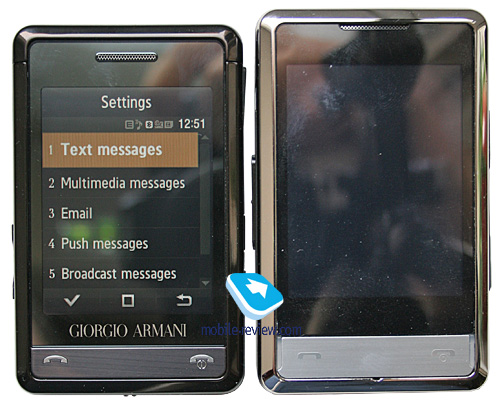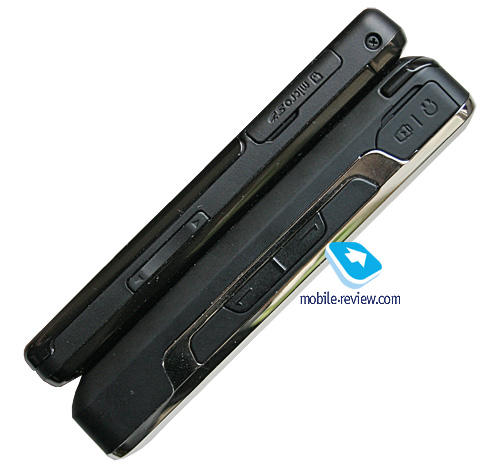 Now, let's look at what separates the Samsung Armani and the LG Prada in terms of their specs:
| | | |
| --- | --- | --- |
| | Samsung Armani | LG Prada |
| Size, weight (mm, grams) | 87.5x54.5x10.5, 84 | 98.8x54x12, 85 |
| Display | 2.6 inches, 240x320 pixels, TFT, touch-sensitive | 3 inches, 400x240 pixels, TFT, touch-sensitive |
| Camera | 3.2 Mpix, no auto-focus | 2 Mpix, auto-focus |
| FM-radio | No | Yes |
| ÌÐ3-player | Yes, full-fledged | No VBR support, missing playlists, very unsophisticated music player, but the handset comes with a remote |
| microSD | Hot-swappable | The socket is placed under the battery |
| Profiles | No | Yes |
| Browser | Extended abilities | Basic functionality |
| Price | 750-800 Euro | 360-400 Euro |
Strangely enough, but the experiences we got from our hands-on sessions with the LG Prada and the Samsung Armani were pretty much identical. Leaving their physical sizes out of the equation, these models last almost equally long, share the data input system and letdowns, like the one with the T9.Spec-wise, the Samsung's offering looks like a winner – there is a more feature-rich browser, better camera and a more capable MP3-player going for it. And the Prada allows its users to swap themes, navigate a bit more elaborated menu system, and make use of its FM-radio and a bigger display.
But for most consumers, the technological talents of these two won't make all the difference – it is a clash between brands and fashion houses, that's why their technical specifications will be given short shrift almost always.
Back to the table of contents >>>
Impressions
The reception quality was never an issue with the Samsung P520, as it was in line with other offerings available in this class. Our ring tones had average volume or a tad lower than that – we would miss our calls even with the Armani in a pocket often enough. The vibro alert was moderate strength-wise, retaining no edge over other Samsung-branded solutions.
Curiously enough, but the Samsung P520 is a snazzy and quaint solution. While its initial price tag of 1100-1200 USD (or 750 Euro) won't really thrill the market, it is still a trade-off for the fashion house's name engraved on the casing. Whether "Giorgio Armani" really costs that much – up to consumers to decide. But since the P520 is planned as a vastly popular solution, unlike the first members of the Card Phones line-up, the brand it retains is not the least important thing about it. Samsung banks on this very handset and believes it will be a success – and having seen a ton of write-ups on this phone, you start to think that even if it won't be all the rage, it will surely garner some interest.
December will also see the Samsung P720's debut, capable of handling two SIM-cards simultaneously, much like the Samsung DuoS. Speaking of the Card Phones line-up, the fourth generation of handsets will arrive during spring 2008, picking up the line of the Samsung P520, reviewed today.
Related links:
Back to the table of contents >>>
Eldar Murtazin (eldar@mobile-review.com)
Translated by Oleg Kononosov (oleg.kononosov@mobile-review.com)
Published — 14 December 2007
Have something to add?! Write us... eldar@mobile-review.com