First information about Philips 530
Philips 530 is aimed to youth market. Philips presumes that the main growth of its market hsare will be in this segment. Developers included several new functions not typical for this company, namely MMS and Java. IrDA is available in this model too. Above-positioned models, for example, Philips Fisio 820/825 doesn't have this feature. Let's see, which potential does this model has.
It looks rather unusual. Offering a rectangular shape, it resembles a small brick. Even each person who sees this phone, noticed unusual design. It stands out among other models. It was risky to combine such materials as metal and mat, semitransparent plastic. The phone will be available in several colors, namely color of the plastic is different in all three cases. In our opinion, dark colors are more attractive as white plastic is very translucent.
Blinking backlighting can be seen on the sides of the phone. It operates together with the incoming call or event.
Dimensions of the phone are traditional for this class, weight doesn't differ greatly from rival models. Nevertheless, you can feel the phone in your hands.
Keypad is made of plastic, alphanumerical keys are average. The keypad is middling concerning comfort. There is a hole around a central key, which represents a loudspeaker. Such construction is also very unusual. This loudspeaker is used to play back ringing tones and using speakerphone function.
Two volume keys are located on the left hand side. IrDA is situated on the right hand-side. You can see a rubber cover on the bottom of the handset; it covers a charger and handsfree connectors. On the contrast to other models, not standard system connector is used here. So, it is possible to use the phone as a GPRS-modem only with a help of IrDA. Probably, cables will be shipped for this model. To connect it you should remove a back cover and set a special nozzle (as in the phones made by Alcatel).
Front and back cover are changeable, it is easy to remove them and set new ones. The main block is made in the same way as in the S-series phones produced by Motorola.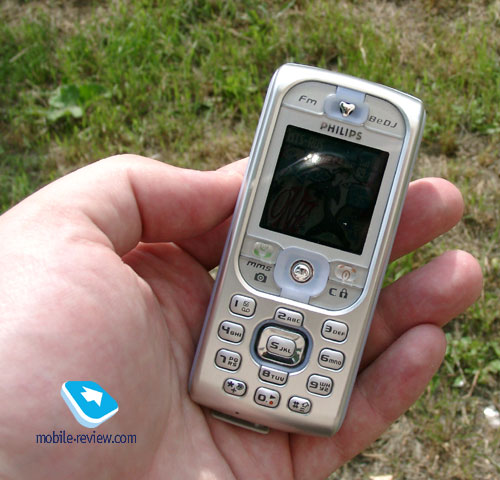 The display has a resolution of 128x128 pixels, but measures 28x28 mm. The screen is not large. Smaller screen dimension means that the picture should look better because the pixels size would become smaller. In reality it is not so, the picture is blurred, as you can see on the photo below. Although the manufacturer stated that the phone supported 65000 colors, we can't compare it with the images from Samsung, LG or other European manufacturers. The screen is darkened under the Sun but it is possible to read the text, though it is not very easy. Up to 6 text liens and 1 service line are contained on the screen. You can see digital clock in the standby mode (it is a screen saver).
Lithium-ion battery of 720 mAh capacity is applied in this handset. According to the manufacturer it could provide up to 380 hours of standby work and up to 4.5 hours of talk time. On average, the phone operated about 3-4 days (1 hour of calls, 30 minutes of using other applications). It will be necessary to check it in a commercial sample. Time of full re-charging is less than 2 hours.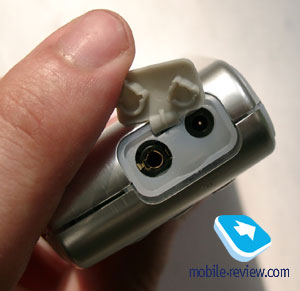 Menu
You can enter a main menu just pressing joystick. The main menu is represented by carousel of items. Shortcuts number navigation is not available. You should scroll the menu yourself or use voice commands. Let's turn to the main possibilities of the phone.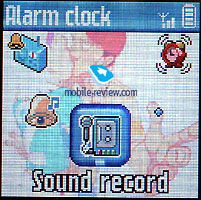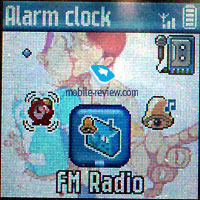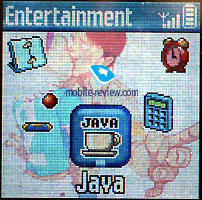 Phonebook. Only one record can be added to one name, that is not typical for the phones of this class. There is a total list of phone number, a possibility to search inoutting three first letters of the name. The phonebook doesn't offer other opportunities.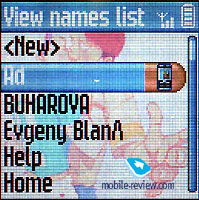 There are 10 caller groups in the phone. You can assign a melody and a picture, including photo to each of them.
Messages. The phone support EMS standard, that allows to add a picture or a melody to the message Unfortunately, this option is appeared only after you wrote a message. Picture pre-installed in the phone are rather interesting. There are templates for SMS-messages.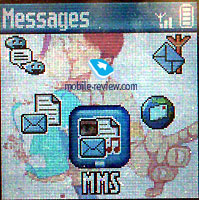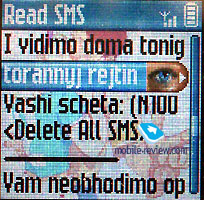 We couldn't check how MMS support is realized in our sample, because this option was absent, but later we would test commercial sample and test it.
Integrated e-mail client is compatible with POP3/SMTP boxes, up to 4 profiles are available. Attachmets (JPEG files) are supported, but they can exceed default size, which is rather small.
Multimedia. The phone has a dynamical memory. Totally about 899 Kb of memory can be used. You can view how it is shared between applications in this menu. The consumer could use a voice memo, which operates in standby and talk modes. Number of records is limited by free memory space.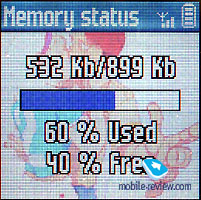 Photo album with pictures, melodies are located here. You can use these melodies as ringtones. Pictures can be assigned to caller groups or used as wallpapers. Among all pictures there are rather nice animated ones.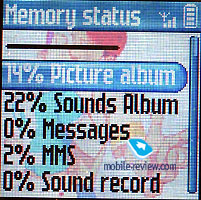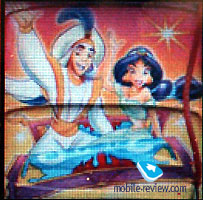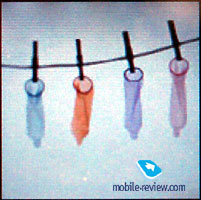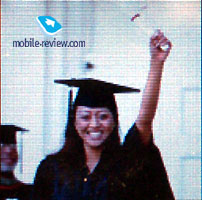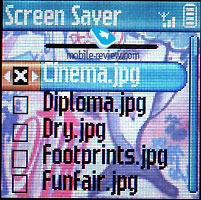 This handset supports FM-radio and has memory for 20 stations. The main differences from 630 are not large. The radio is well realized, though some interference are possible in cities.
Entertainment. One Archanoid and Bricks (originally named by Philips) are pre-installed in the phone. Besides, you can find a calculator, organizer, alarm clock. All these features were not changed compared to any other model from Philips. The main peculiarity is that these menus became color.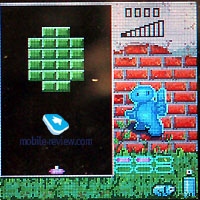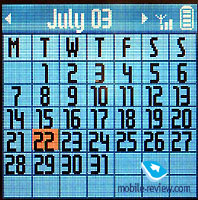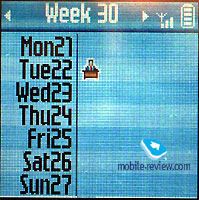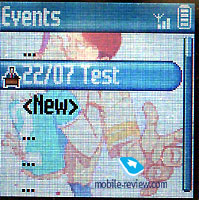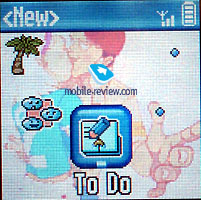 Java. The manufacture announced that the phone supported Java, but we didn't have an opportunity to test it, so, we'll leave it here.
Impressions
We tested not commercial sample, so, it is early to make any conclusions. Let's see what functions will be available in later versions. It is not obvious till now whether the handset will support bluetooth. On the one hand, everybody says about it, on the other, all samples do not have it.
In response to functions it is a typical phone from Philips. For example, differences from Philips Fisio 825 are not considerable. The main advantage of this model is a color screen, but it is not the best one for today. On the whole, the impression after using this handset is rather controversial.
It is presumed that this model will be officially announced only in the beginning of September, shipments will begin in the end of November. An expected price is about 200-220 USD. Taking into account that there are many rival phones in this price segment, which have more advanced features, Philips 530 has not bright outlook. Of course, it will find its consumers, but number of them won't be large. If the phone cost about 165-170 with an external camera in the kit, it will become more attractive for users.